Home
>
My Software
>
NTCPQB
NTCPQB
Harness the power of the internet with QuickBASIC v4.5 and newer!
---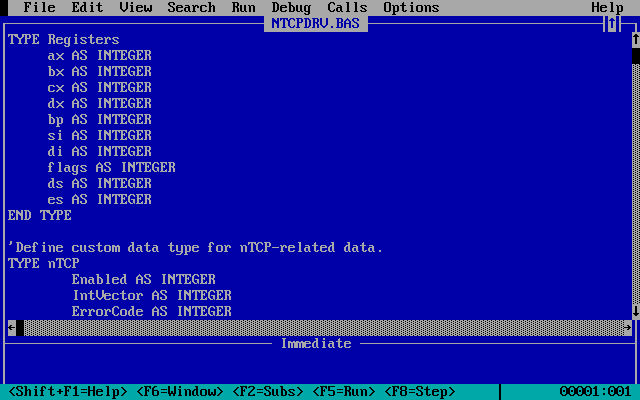 Screenshot of NTCPQB source code loaded inside of the QuickBASIC v4.5 IDE
---
NTCPQB is the basis on which all of my DOS-compatible network and internet capable applications are built. Available since winter 2006, the latest version is 1.2 and was released on July 12, 2008.
The routines in v1.2 have been updated to provide slightly better performance than before. Most importantly, it fixes a few bugs that existed in prior releases. If you are still using v1.1 or older, I highly reccommend that you download v1.2 for increased stability!
Like everything else on my site, this download is considered "freeware" and the GNU GPL v3 license applies to it's distribution, and it comes with the complete QuickBASIC source code. The current public version is 1.2. Download by clicking a link below!
Download NTCPQB:
&nbsp -NTCPQB v1.2 (current release)
Bookmark this site and stay tuned for the future releases!